Sydney, Saturday 3/12/2011
Video - Velké Bílovice 17.8.2011 MOVIE
Duration: 1hr 4mins
Resolution: 720/576 px
Please allow over an hour to watch this video. If you have a high speed internet, you can watch in TV quality. If you like it, use a LIKE vote button.

Sydney, Tuesday 22/11/2011
Video - Velké Bílovice 17.8.2011 PROMO
Duration: 59 s
Resolution: 720/576 px
This video does not need any comment :-)

Sydney, Saturday 11/04/09
Do you plan holidays and accommodation with HotelClub.com? Check out our experience!
It was coming to the end of the year 2008. I and my girlfriend decided to take our parents, who came to visit us, to Kangaroo Island, SA to celebrate New Year's Eve there. So, we were thinking how to organize our tour. The easiest way seemed to find our accommodation on Kangaroo Island on the internet. We chose a site with a good reputation http://hotelclub.com . However, what a surprise we got? We would never go again with HotelClub! That was like from a bad dream what happened to us and the following attitude of HotelClub was shocking! Would you like to know about how hotelclub.net works and takes care of its clients? Read this story accompanied with authentic e-mails we received from HotelClub!
Sydney, Monday 16/06/2008
Video - Leos Drinking Shots
Video clip: Leos Drinking Shots
Download file for external player
VideoFormat: wmv
File size: 4.58 MB
Duration: 126 s
Resolution: 176/144 px
You can also download a version for mobile phone in 3gp format (2.08 MB).
Do you remember Leos Ryba? He is our former employee who just left Australia and is going home for 8 weeks. We have prepared a movie dedicated to him. It shows Leos how he was drinking shots at his best times. When did it happen? In November 2006...
Sydney, Tuesday 03/06/08
Roosters beat Tigers in rainy match and Prague Restaurant were there
Sydney Roosters returned to the top of the NRL with a hard-fought 19-10 win over Wests Tigers at the Sydney Football Stadium and Prague Czech Beer Restaurant employees or former employees assisted at this match. Ales, Veronika, Ve-Ve (new Veronika), Marek, Martin Knut, Sasa and Leos took part in this game. There were another 15500 spectators, the atmosphere was good, only the heavy rain caused that we got wet everywhere. See the pictures from the match.
Sydney, Thursday 15/05/08
Standíček in May 2008 in Beladice, Slovakia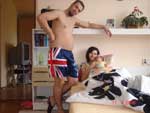 We have got an e-mail with pictures from Stanko. Do you remember Stan? Our chef assistant who left us in November 2007? We did not forget him and we will never forget.... The funniest guy we have ever had in the kitchen. We can still remember his: "Put the gear number 2 and start working!". So have a look at pictures from his family life, how his wife Barborka and daughter Laura live...
Sydney, Thursday 08/05/08
Kings Cross Food & Wine Festival 2008
On 4th of May 2008 the Food and Wine Festival took place in Kings Cross. And our restaurant was there. Michal, Irenka, Veronika, Adam and John were doing their best to help to sell as much food and drink as possible. On the menu there were Beef gulash, sausages, Czech beer Bernard and Czech spirits. And almost everything was sold. Have a look at pictures from the festival.
Sydney, Tuesday 29/04/08
New Pages www.restaurant-prague.com Starts
New employee web pages of Prague Czech Beer Restaurant starts just now! A new employee modul is introduced. At the moment only current employees have an access to the module via login form in the right top corner of the pages. But shortly former employees will get the access as well so that they will be able to contact each other. You will find a lot of information regarding the restaurant.
The greatest advantage of the new pages is a scripting technology having been introduced, which enables to update the pages more flexible and the pages as the whole will be more dynamic. This technology give us more chances to implement new services of the web much easily and faster.
All employees will get an email with the username and password shortly - please change your password due to security reasons. After you log in, you can change your personal details and your photo as well.
Sydney, Tuesday 29/04/08
New Menu Launched

Since Wednesday 23/04/2008 we have a new menu. Our head chef Janko changed the menu and there are some new dishes on the menu.
For instance you can find there meals like Bruchetta, Hunter Veal Schnitzel, Gordon Chicken Schnitzel, Mussels Obsession or Black Mussels or Bohemian Party dish for 2 people. For more details just see the menu in the restaurant. We have a new wine list and new cocktails.
Sydney, Tuesday 29/04/08
Staff Party 2008 - Blue Mountains
At the end of January we had a staff party. We went to Blue Mountains. We had a lot of fun - except responsible drinking of alcohol we had a night competition between two teams made from our employees. Sofar it is not clear which team actually won - so we agreed that was a draw. We spent 2 nights in Blue Mountains close to the Wentworth Falls. The second day we were caving - we had many exciting experiences. Have a look at pictures from those days.
Sydney, Tuesday 29/04/08
Easter party 2008 - Maroubra

The restaurant was closed on Easter Monday, so we did a party in Maroubra. Pictures from the party you can see here. We started at 4 pm and finished after almost 12 hours partying. Except an incident when Karlik Mr.G. broke a window door everything was going well.
Sydney, Tuesday 29/04/08
Michal Jicha Has Gone

On 18th April 2008 Michal Jicha left us. He helped us in the kitchen when we needed at most. He was a good friend and a chef as well. Thank you Michal and all the best to the future. Have a look at pictures from his last evening in Australia.